Sunday, December 26, 2004.
At Nisa's house

10:32 PM
.
At zaei's house

10:31 PM
.
At Ellya's place
Raya Pics

10:31 PM
.
PICS!!
Mei and me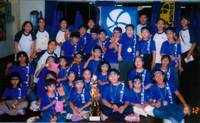 Mighty, Mighty Blue Team!

At the orphanage with Leng

Girlies at DC

Studio pic

Zong and I! :)

3:33 PM
.
MERRY CHRISTMAS EVERYBODEEEEEEE!!!!!!!
Merry Christmas to all and a blessed new year!
Just some updates... probably gonna go backwards from most recent to least recent...LOL...my mind works better that way....
today was christmas...nothing much going on for me-stayed at home the whole day except for a little shopping jaunt in the late evening to look for a pressie for my coursemate who's getting married (bersanding?) tomorrow.. Christmas Eve service was good...glad i went despite some little hiccups (and when i mean hiccups, i don't mean *hic hic*..) :P got a few pressies so i'm happy...actually realised i forgot to put up my meagre supply of christmas deco so i did that last night...took me two minutes haha
just two days ago, cait, jocelyn and i went to the beach just to relax...we built a sand castle that ended up a sand mountain, drew hearts in the sand and talked *girl talk* :)now i itch all over *stupid sand flies* and have huge red welts all over my thighs and arms *sigh* but, nevertheless it was a good time :)
been so busy the past week with Yunn's wedding...the wedding dinner was at Orchid Garden Hotel...to begin with, Rach n i were running late...then we realised we forgot the poppers so we had to rush home to get it...i tell u, i seriously hope that when it's MY wedding, that someone would willingly go through all the trouble we did!! The whole night was spent running around making sure things were going according to plan so i hardly ate... Three things that i liked abt the night... one was my hairdo which cost me $10 (with "illusion gel" somemore *inside joke*)and looked pretty good...two was our song presentations which went well (despite the first one going all wonky:P) and three was someone complimenting me on my looks and refraining from the usual *my, you're fat* remark! Other than that, it went pretty ok, the wedding...the newly weds looked happy and everyone had a good time, i'm sure. Rach posted something abt the wedding too so if u wanna just have a read, go over to her blog...it's on my list by the side ( if ur still blur...:P)
Before KK was the Kuching Mission trip...met lots of new friends and got to know some really cute and smart kids :) Staying at the DC was actually fun this time round with so many of us...just like a slumber party! hehehe...we had "illegal immigrants" in our room and i think our group grew closer so it was a good trip. One of our friends in Kuching, Cuzario, even took a few of us for coffee and cheesecake! The cakes rendered Janet and I totally speechless...it was goooood.. thanks Cuza! hahaha next time u have to bring us again! We also went on an outing to the beach with the St. Faith Youth...it was raining on and off and eventually a few of us got tired and just sat in the pondok talking... the beaches in Brunei are still a whole lot more nicer though and being at the beach there made me miss home hehehe the visit to the orphanage was really fun and an eye-opener for many of us...so many kids who have no proper homes or families and at such a young age...we got to know this little boy called Leng who's a bit mentally slow...and because of that he doesn't really talk properly and blinks really slowly...but he's really cute when he blinks coz its really slow and he smiles when he does it :) there was another baby, Ee-mou or something to that effect...very cute baby...wish i could adopt them...if i had money and resources i would adopt them all and give them a home... :(
anyway...that's all my tired brain can churn out at the moment..i'm off to my teddy bear laden bed to get some shut eye...Merry Christmas to all...and to all, a good night!
1:59 AM
Tuesday, December 21, 2004.
WEDDING BELLS AND CHRISTMAS BELLS...AND ZONG'S BELLS!!
just came back from kk for my cousin's wedding...basically there was a tea ceremony, a family dinner, a wedding reception and some shopping in between :)there will be another wedding dinner tomorrow night at OGH so there's still stuff to do...i can't believe i have NOT done any christmas shopping AT ALL! I really want to get christmas presents for everyone but i'm seriously broke since i'm not working this holidays and i have to pay off for my car and laptop which leaves me with a grand total of BND22 every month (well for november and december anyway...) GREEEEAAAATTTT....
zong has been a bit weird today...he seemed sick earlier this afternoon leaving poopie mess around the house but now he's running around the house, his collar bell jingling as he trots(skattles??) all over the place...btw if you're wondering, zong is a little shih tzu puppy (we don't put collars on babies or kids yeah?)harharhar...
AN-NEEEEEE-WAAAAAAAAAY...i'm off to take a shower...apparently Chouji has died...crap... i was half way thru' episode 113 lagi tu... aduh... (this is Naruto talk here...) off to finish 113 before my shower *wink*
5:42 PM
Friday, December 03, 2004.
YOUTH MISSION TO KUCHING, 2004
I will be away from the 5th to the 12th of Dec for YDM's Mission Trip to Kuching. We will be helping out with KidsGames there and also visit one or two of the parishes there.. I'll be missing a few open houses on Sunday which i'm pretty upset about (seeing as i didn't go last year either...) :( but...it's ok..there's always next year! and the next, and the next...and the next...hehehehe....
today im actually sick so i missed a whole round of raya-ing :( yesterday however, my friends and I went to five houses... Mahran's, Nisa's (who, btw, has a WICKED room..like a mini house all to herself!) Ellya's (who has a big fat cat!:)) Zaeidi's(basar ah rumah mu...bila sleepover/movie marathon? hehe) and Fifi's (who also has a big fat cat!!)..so that's five houses in a span of about...five hours lah...ngaliiihhhh... by the time we reached ell's place i was stuffed and couldn't eat (but i managed to eat some soto which was nyamanzzz) hehehe tiring but fun... we also went to the studio to take a photo...hopefully it comes out nice :) semua pakai baju raya lagi tu...lawa kali ahhh hehehe :) i also got a haircut..and i now have a fringe just like cait's hehehe a slanted one...something new, getting used to it...look younger ;) hahahaha
just gonna put up the program for my week away just in case anyone's interested hehehe...
5th Dec- Travel to Miri by coach(leaving SAC by 11), then to Kuching by plane (Fokker lerrr....ahhh!)
6th Dec- Opening Ceremony of Kids Games, KidsGames 1 & 2
7th Dec- KidsGames 3& 4
8th Dec- KidsGames 5 & Closing Ceremony
9th Dec- ACC Gotong Royong Clean Up, Parish Visit?
10th Dec- Visit Kuching Orphanage, afternoon and night FREEEEEE (shopping ni...) :)
11th Dec- Preparation for Parish Visit, then Parish Visit to St James, Quop at night
12th Dec- Sunday Service at St Faith's, then back to Miri (Boeing 737... woohooo)..then to BSB..then..HOME SWEET HOME!!!! hahaha
so while i'm away for a week, i'll miss u guys loads...especially
YOU
,
YOU
and
YOU
(eh...you're coming to Kuching too lah hahaha...so..not
YOU
then!) :)hehehe...take care guys and will think of u while i'm away...please do pray for us, for journey mercies and for protection, guidance and strength for the whole team and everyone in Kuching...see you guys in a week! MMWAH! xoxox
10:37 PM