Friday, April 29, 2005.
PICS GALORE!!
Just posted up a whole bunch of piccies....exams start monday...sigh...will check back again after exams...til then, take care guys and all the best for exams too :)
9:47 PM
.
Camp!

9:46 PM
.
Lorene and Pauline

9:45 PM
.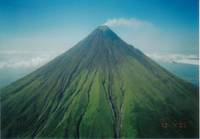 Mount Mayon

9:44 PM
.
Lorene@Taal

9:44 PM
.
Kit, Lorene & Laurice

9:43 PM
.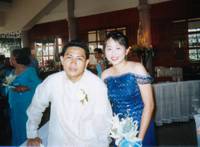 Best Man with the Maid-of-Honour :)

9:43 PM
.
frens@jogathon

9:41 PM
.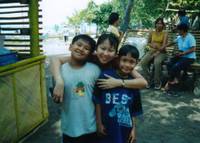 Lorene and her boys :)

9:39 PM
.
Amanda and Lorene

9:38 PM
.
Cousins at the airport

9:34 PM
.
Cousins

9:31 PM
.
UBD Jogathon

9:30 PM
Saturday, April 16, 2005.
CYBER CAFE BUM
Hello everyone! At the cc with daddy and a.judith..might as well since the wireless is GONE...GONE i tell you! *sob*
ba_fly is back from the Philippines! :) Had an amazing week in the Phils.
Daddy's church wedding was beautiful...all the Phil relatives were there and yours truly was the maid of honour ;) I can't really remember the name of the church except that it was a Catholic church in Legazpi... After the wedding ceremony which was at 3 in the pm, we went to Casagwa (sp?) which is like a resort/park for the reception...garden reception laaa...lawaaaa.... It faces Mt Mayon which is what Legazpi is famous for...the home of Mt Mayon...when we were there, Mt Mayon was on Alert 2 (it's actually an active volcano)but I wasn't really scared lah... I think I actually would wanna watch a volcano eruption :P I was in Legazpi from the 8th to the 13th and while i was there I
:watched a movie ("Cursed" starring Christina Ricci...screamed during the movie...four guys, two girls...i screamed in my cousin's (JR) ear LOL), went to the mall(nothing much there)
:went to Donsol (a beach famous for the Butanding or whale shark that is found in the waters there), sat around and had a picnic but no swimming...malaaaas...
:took a three hour ride to a HUUUUGE coconut plantation (!) to eat..duh...COCONUTS! LOL and three hours back to the house mind you! Ohhhh my buuum....my poor,poor bum...
Eh you know what? The movie cost us 45 pesos each...slightly over a dollar in Brunei$ and you can stay in the cinema to watch the movie over and over again if you want! Waaah!
We flew back to Manila on the 13th and spent the day walking around the mall (HUGE i tell you!), went to Tagaytay the next day to see Mt Taal (another volcano!) which was about an hour's drive from Makati, and the night was spent at the Fort (I don't really know the exact name) and cruising around Manila Bay (really pretty place). The next day was GOING HOME DAY!!
I'm sooooooo glad to be home...missed my friends, and YOU terribly ;)I took quite a bit of pics so I'll post them up soon...maybe after exams! haha! Too lazy to fix the previous picture posts...next time saja laaaa...
BA_FLY is SOOO GLAD to be HOOOOME!!!
I miss all my cousins though...Thanks guys for looking after me...I already miss you guys loads...especially the little ones :) I will try to save enough to go back for Christmas (hopefully i can!)hehe
EXAMS coming up ppl!! Gotta finish up my dissertation...DIEEEE... bye!
8:57 PM
Sunday, April 03, 2005.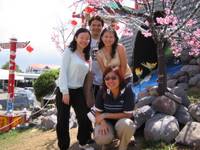 At NBT

11:13 PM
.
Pals at Jollibee

11:11 PM
.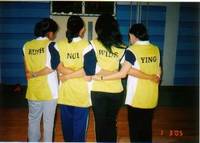 SMM Girls-Badminton Tourney

11:06 PM
.
Girlies (and Pram!) at YDM's CNY/Valentine Bash

11:04 PM
.
TWO DOWN...ONE MORE TO GO
Finally i have some space to breathe...two peer lessons have come and gone...honestly, i think i did ok...could have done better, but I don't care coz it's already over!! hehe... The feeling after i was done with both peer lessons was equivalent to coming out of the exam hall on the last day of exam :)FREEEEDOM!! haha! Tapikan...i have one more...but that isn't too bad...quite an easy-peasy one *knock wood*...krg payah...:P
Besides being busy with uni, work is taking lots of my time...as well as getting ready for my trip to the Philippines :) I'm really excited to go and meet up with my cousins, do some shopping...and EAT EAT EAT!!!! LOL!! :) I'm a bit worried abt my work though...I'll be missing a week's worth of work...and losing a week of time which i could spend on my dissertation o_O dead...dead...dead...
been reading nisa's blog abt the project room fiasco...i seriously think u guys deserve a room though, no matter what mr.pms says... grrrr...klau me, aku sasak tu...no mercy...muahahaha! :P I will give him a piece of my mind LOL sasak ku eh when i hear abt it...grrrr grrrr grrrr...hehehehe
just updated ding's and added mei's blog to my list...visit visit and tag tag tag! :)
gonna go guys...tired... nitey nite!
10:28 PM